SPC Day 2 Fire Weather Outlook


SPC Day 2 Fire Weather Outlook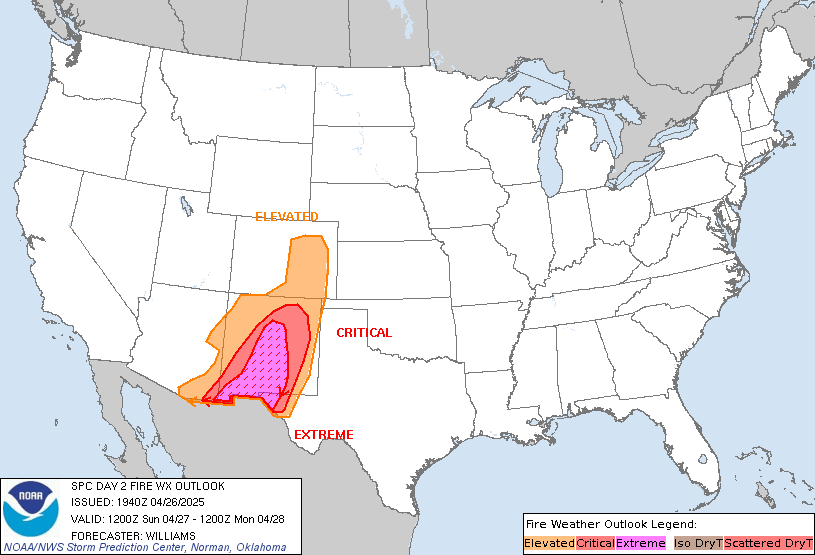 Day 2 Fire Weather Outlook  
NWS Storm Prediction Center Norman OK
0203 PM CDT Mon Oct 26 2020

Valid 271200Z - 281200Z

...CRITICAL FIRE WEATHER AREA FOR PORTIONS OF NORTHERN INTO CENTRAL
CALIFORNIA...
...CRITICAL FIRE WEATHER AREA FOR PORTIONS OF SOUTHERN CALIFORNIA...

Much of the previous forecast remains on track. Latest model
guidance consensus depicts 15-25 mph sustained northerly surface
winds amidst 10-20% RH across portions of the Sacramento and upper
San Joaquin Valley areas Tuesday afternoon, necessitating the
maintenance of a Critical area given exceptionally dry fuels in
place. Offshore flow and widespread 10-20% RH will continue all day
Tuesday across the southern Transverse Ranges in southern
California. The strongest winds (i.e. widespread 25+ mph with higher
gusts) are expected to occur mainly during the morning, with gradual
weakening expected through the afternoon into the overnight hours as
upper support continues to move away from California. 

The Elevated area across the Lower Colorado River Basin was expanded
farther north into far southern Nevada. Temperatures are forecast to
warm into the 50s, with widespread 15-25 mph sustained northerly
surface winds coinciding with critically low RH by afternoon peak
heating. While surface temperatures will remain cool overall, the
aforementioned favorable surface winds/RH overspreading very dry
fuels will compensate to support an Elevated wildfire-spread threat.

..Squitieri.. 10/26/2020

.PREV DISCUSSION... /ISSUED 0216 AM CDT Mon Oct 26 2020/

...Synopsis...
Elevated to critical fire-weather conditions will continue across
California and the Desert Southwest on D2/Tuesday as a persistently
strong surface pressure gradient resides in these areas.  There are
indications that this gradient will weaken midday as high pressure
over Nevada weakens slightly.  However, models also indicate a
restrengthening of the gradient in the latter half of the forecast
period, which should maintain areas of gusty northerly/northeasterly
surface winds and very low RH.

...Northern California and the Bay Area...
Given the continued favorable pattern for fire weather, it is likely
that elevated to critical fire-weather conditions (20-30 mph
northerly flow and 5-20% RH values) will be ongoing early in the
forecast period.  Winds will slacken only briefly in a few areas
during the day as temporary weakening of the surface pressure
gradient occurs.  This gradient will reintensify, however, with
strong winds returning during the afternoon and continuing
overnight.  Fuels remain very dry in this region, and ERCs remain
near record levels.  Thus, an environment favorable for rapid fire
spread will continue - especially in the critical delineation across
the Sacramento Valley and eastern portions of the Bay Area.

...Coastal ranges of Southern California...
The favorable offshore flow pattern will persist throughout the day
across the region, and although slightly weaker winds are expected
compared to D1/Monday, gusts to 50 mph or higher cannot be
completely ruled out in terrain-favored areas.  Fuels remain dry,
and RH values will also exhibit poor recovery overnight while
falling again into the 5-15% range amid peak heating.  Critical
fire-weather conditions are expected to persist throughout the day
and continue into the overnight hours.

...Please see www.spc.noaa.gov/fire for graphic product...